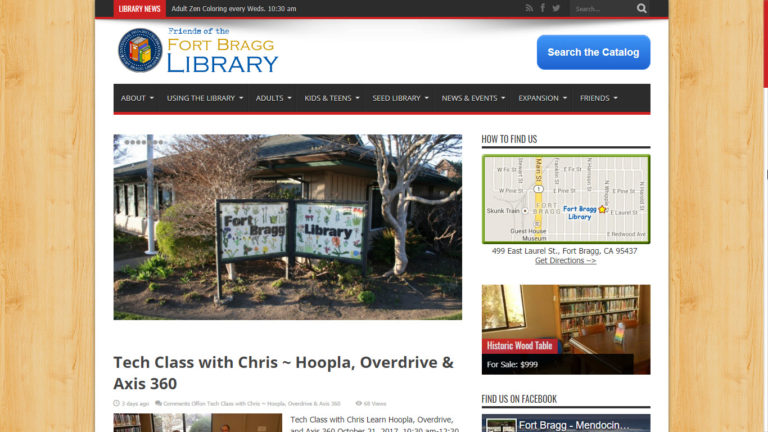 Fort Bragg Library is a branch of the Mendocino County Library and part of a 3-county consortium, Mendocino, Lake and Sonoma Counties, where we share a free exchange of Library services and materials. Fort Bragg Library is a Public Library funded by Mendocino County tax revenues with supplemental funding provided through the diligent fundraising efforts of the "Friends of the Fort Bragg Library" organization and generous patron donations.
We began improvements to the library's main website starting in 2015, migrating all historical content into the WordPress web framework, allowing uninhibited opportunity for library information growth. We shot new photographs of the location for marketing and website content purposes. Later, we helped integrate and maintain an online reservation system for the library's Community Room, allowing real-time interaction with the library staff and Reservation Calendar, as well as an advanced Events Calendar.
We continue to support the library's website development and maintenance. As the library's website grows with content and community event information, daily traffic continues to increase, and real-world foot traffic rises, which is the ultimate marketing goal of this non-profit organization. We are proud to see such success with such a small-town community effort.
Fort Bragg Library is a part of Mendocino County Library Group located on the beautiful Northern Mendocino Coast in Fort Bragg, California.